Deine Eintragung zum kostenlosen Profil-Coaching
 Super! Herzlichen Glückwunsch!
Das hat geklappt – Du hast Dich erfolgreich für Dein kostenloses Profil-Coaching angemeldet.
WICHTIG: Den Zoom-Link findest Du in der Termineinladung. Wir werden das Zoom-Meeting pünktlich zu dem von Dir gebuchten Termin starten. Bitte stelle sicher, dass Du ungestört das Zoom Meeting durchführen kannst, damit wir gemeinsam Dein individuelles Profil entwickeln können.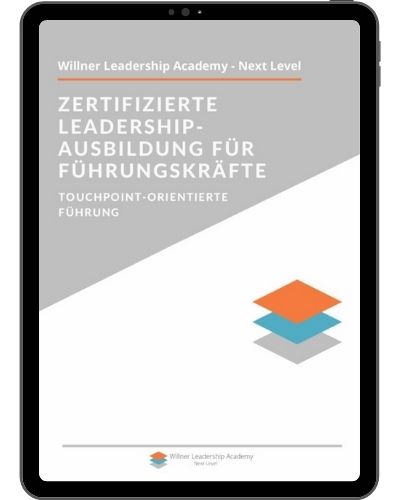 Perfekte Vorbereitung auf das Gespräch:
Klicke jetzt auf den Button unten und lade Dir Informationen zur Leadership-Ausbildung in der Willner Leadership Academy herunter.
In diesem Dokument haben wir nochmal alle wichtigen inhaltlichen Punkte für Dich zusammengefasst und Du kannst es Dir vor unserem Gespräch nochmal in Ruhe ansehen.
Wie geht es jetzt weiter?
Schritt 1: Eintragung
Erfolgreich abgeschlossen!
Schritt 2: Persönliches Profil-Coaching
In einem persönlichen Touchpoint-orientierten Profil-Coaching (30 Min.) erhältst Du kostenlos eine Einschätzung über Dein persönliches Führungsprofil. Dabei lernst Du Dich selbst einzuschätzen. Ebenso lernst Du von unseren erfahrenen Coaches, wie Du Dich in diesen Touchpoints weiterentwickeln kannst.
Schritt 3: Entwicklungsgespräch
Nachdem Du Dein individuelles Profil mit unseren Coaches erstellt hast, wirst Du ein kostenloses Entwicklungs-gespräch  mit unserem Gründer Mark Willner führen. Hier kannst Du offene Fragen klären.
© Mark Willner 2020  | Impressum & Datenschutz
This site is not a part of the Facebook website or Facebook Inc. Additionally, This site is NOT endorsed by Facebook in any way. FACEBOOK is a trademark of FACEBOOK, Inc.