Deine Eintragung in die Warteliste
Schade, leider sind schon alle Plätze vergeben.
Schön, dass Du Dich für ein Touchpoint-orientiertes Profil-Coaching mit uns interessierst. 
Wir melden uns bei Dir, wenn es wieder freie Plätze gibt.
Falls Du nicht warten kannst, vereinbare hier ein persönliches 1:1 Gespräch mit uns:  Klicke hier (klick)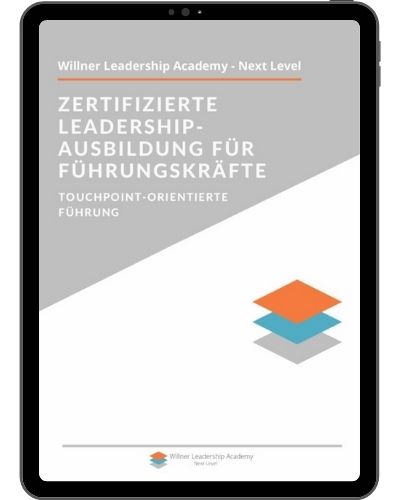 Möchtest Du mehr über uns erfahren?
Dann klicke jetzt auf den Button unten und lade Dir die Informationen zur Leadership-Ausbildung in der Willner Leadership Academy herunter. Oder besuche unsere Website: https://academy.willnerundpartner.de/ 
Wie geht es jetzt weiter?
Schritt 1: Eintragung in die Warteliste
Erfolgreich abgeschlossen!
Schritt 2: Reminder per Mail, wenn Plätze verfügbar sind
Du erhältst eine Mail, sobald wieder freie Plätze zum kostenlosen Touchpoint-orientierten Profil-Coaching verfügbar sind. 
Schritt 3: Sichere Dir Dein persönliches Profil-Coaching
In einem persönlichen Touchpoint-orientierten Profil-Coaching (30 Min.) erhältst Du kostenlos eine Einschätzung über Dein persönliches Führungsprofil. Dabei lernst Du Dich selbst einzuschätzen. Ebenso lernst du von unseren erfahrenen Coaches, wie Du Dich in diesen Touchpoints entwickeln kannst. Anschließend wirst Du ein kostenloses Entwicklungsgespräch  mit unserem Gründer Mark Willner führen. 
© Mark Willner 2020  | Impressum & Datenschutz
This site is not a part of the Facebook website or Facebook Inc. Additionally, This site is NOT endorsed by Facebook in any way. FACEBOOK is a trademark of FACEBOOK, Inc.